29 Oct

Record-breaking bread event for a good cause

On 15 October 2020, 22 local bakeries came together to bake 7,000 wholemeal, high-fibre buns for a good cause. These bakeries had combined their resources to create a new entry in the Singapore Book of Records for the longest line of packaged bread for charity.

Under the theme 'Stay healthy, stay united', the buns were made with low-sugar fillings. Once baked, the sweet pieces of bread were arranged to form a 70m-long chain in E2i Hall 1 to 4 at the Devan Nair Institute for Employment and Employability.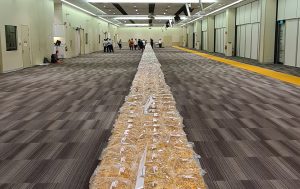 70m-long bread chain
Making such a large amount of bread is a colossal community effort. It's not enough to have the expert hands of many bakers to knead and shape dough, premium ingredients have to be used to ensure the quality of the final product. That is why Lesaffre and Hawley supplied SAF-INSTANT™ Gold yeast for the record-breaking event led by Creative Culinaire and organised to coincide with World Bread Day 2020.
SAF-INSTANT™ Gold is specifically formulated for high-sugar doughs. Its finely milled texture allows it to easily and evenly combine with dry ingredients. With strong fermentation power, it allowed the participating bakers to make the large quantities of bread quickly, without compromising on the flavours of the bread obtained from yeast fermentation.
At Lesaffre and Hawley, we believe in giving back to our society and breaking bread together. Upon the conclusion of the event, all the bread was donated to Food From The Heart as part of community outreach. Beneficiaries who received and enjoyed the bread include Boys' Town and the Jamiyah Halfway House.