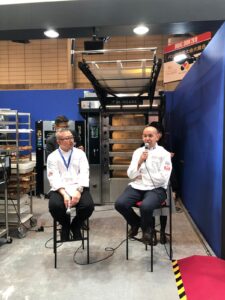 Lesaffre launches L'Hirondelle 1895, a semi-dry frozen yeast at MOBAC Show 2019 which was held in Tokyo, Japan from 20 to 23 February 2019.
Nichifutsu Shoji, distributor of Lesaffre's yeast, took this opportunity as an exhibitor of this show to introduce L'Hirondelle 1895 with Mr. Jean-Louis Bouvier, Technical Bakery Advisor from Lesaffre and Mr. Naruse Tadashi, Lesaffre ambassador in Japan; also an owner and chef of Train Bleu, presenting the benefits of this yeast where the long fermentation process able to provide exceptional flavour and texture while its frozen format provides flexibility and minimal wastage.
With consumers of Japan is looking for healthier breads that does not compromise on sensory appeals, L'Hirondelle 1895 is perfect for lean dough and sweet breads such as baguettes, European breads, croissants and Shokupan. The packaging of this yeast is versatile as it can be easily stored, giving breadmakers control of the production process so nothing is wasted.
For more information, please visit https://bit.ly/2EhZasq