How To Choose The Right Yeast For Baking
With the range of yeast available in the market, the type of yeast used may affect the end-result of your baked goods. Our yeast combines effectiveness, quality and fermentation power, providing you with the right type of yeast and solutions for your needs.
When choosing the right kind of yeast, consider the following areas:
Sugar Dough Content
In today's age and era, consumers are exposed to a variety of breads and they are constantly seeking for new flavours and experience. Bakers need to be more creative in their bread making skills without compromising the taste, outlook and flavour. When choosing the type of yeast for your baked goods, consider the sugar content of what you are baking. Here is Lesaffre's suggestion of yeast usage,
Lean dough: 0% – 5%
Enriched dough: 5% – 17%
High sugar dough: 17% and above
Fat and Hydration Levels
Depending on the type of bread you are baking, consider the level of fat and hydration levels to the baking ingredients. The type of flour, amount of water, butter, milk and other ingredients used will affect the type and amount of yeast used.

Use of preservatives for the breads
To make bread last longer, preservatives need to be used such as calcium propionate or vinegar . Preservatives used in bread can come in the form of artificial or natural. The amount of preservatives used could affect the taste and flavour of the baked goods.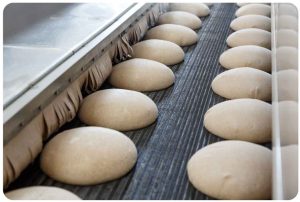 Production process or method
A few aspects of the process of bread making will need to be considered when deciding on the type of yeasts used. Consider the desired fermentation time (fast or slow), the flavour of the end-result, mixing processes and techniques.
Shelf-life and convenience
Fresh yeast has shorter shelf-life, requires refrigeration but more cost effective. Instant dry yeast has longer shelf-life, easy to transport and easy to store. Put this consideration in mind when selecting baking yeast.
Desired Claim Labels
"Clean Label", "Alternative protein", "Additive Free", "Organic" are some of the trends the food industry are riding on now. Consider the claim labels you desire to market in your baked goods to consumer.
In Asia Pacific, Lesaffre's range of yeasts are categorised by fresh yeast, instant dry yeast and frozen yeast. Learn more about our range of yeast here.